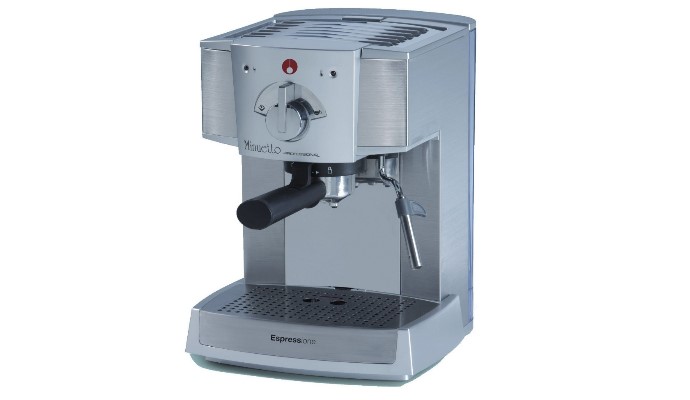 Espressione Café Minuetto Professional Thermoblock Espresso Machine, Silver
Color: Silver
1000-watt espresso machine with Thermoblock heating system and 15 bars of pump pressure
Maxi Cappuccino device for effortless cappuccinos; accepts ground coffee and ESE espresso pods
High-pressure safety valve; self-priming temperature-controlled boiler; rubber-grip handles
Cup warmer; removable 1-liter water tank; removable drip tray; measuring spoon included
Measures 12 by 11-1/3 by 14-2/3 inches; 1-year limited warranty
Kindly refer trouble shooting steps under the Product details and instruction video under the image section for set up and trouble shooting details.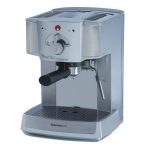 Product Description
Color: Silver
Espressione Cafe Minuetto Professional is a solid performing espresso maker sporting a classy yet modern design. Features 15 bars of pump pressure along with a thermoblock heating system for creation of instant steam. Equipped with a Maxi Cappuccino device to produce rich creamy cappuccinos. Safety features include a high pressure safety valve, self priming temperature controlled boiler, and rubber grip handles. Convenient features such as a cup warmer on top, large capacity water reservoir with a visible level indicator, and a removable drip tray – make it easy to use and maintain. Comes with a versatile filter holder and three filters that accommodate both ground coffee as well as ESE coffee pods. Durable INOX housing with front in silver varnished ABS.
Product Information
Color: Silver
Product Dimensions 11.3 x 12 x 14.7 inches
Item Weight 14.2 pounds
Shipping Weight 14.2 pounds (View shipping rates and policies)
Manufacturer Espressione
ASIN B002E2U7A0
Domestic Shipping This item is also available for shipping to select countries outside the U.S.
International Shipping This item can be shipped to select countries outside of the U.S. Learn More
Origin China
Item model number 1334/1
Customer Reviews 3.7 out of 5 stars 286 customer reviews
Best Sellers Rank #29,715 in Home & Kitchen
Date first available at Amazon.com June 20, 2009

Top Customer Reviews
5.0 out of 5 stars
This Machine Rocks!——Always Hungry in Texason (September 10, 2012)
Color: Silver
Okay, seriously this lil machine (not a lightweight one either) really puts out a fast and furious brewed espresso! I LOVE it! super fast, super easy to use. I honestly have no complaints about it. I am such a "detail" person who does all my legwork before I purchase and I scored with this one! The "knob" is fine, IF it does fall off like others have claimed, it would be such an easy quick fix. Don't NOT buy it because of this. Really it's a strong knob. I place my muffins on the warmer on top occasionally…so nice! The first time I used it I packed the espresso grounds too tight, ya barely need to press them down. The key to a good perfect flow is packing them just lightly, otherwise it will clog the holes and cause it to not flow smoothly. You will get a nice lil foamy topping automatically on the espresso, just like a quality coffee house. Finally a machine that DOES what it says. Be blown away, get one!

p.s…..add a lil brown sugar to bottom of cup before dispensing….ooooh la la!

5.0 out of 5 stars
Excellent——Amazon Customeron (February 29, 2012)
Color: Silver
I purchased this espresso machine in Nov '11 as a birthday gift for my husband. Since then it has been used minimum twice a day. it makes excellent coffee, espresso, and latte's… perfect temperature, perfect rich taste. IT is very easy to use, and clean… it takes very little for the water temperature to warm up, and it makes little noise. Granted the knob did come off a month ago, but unlike the previews reviewer, we are a little more handy and figured out it only needed two screws to fix, now it will never come off. it is incredibly sleek, and professional looking, takes little space, and still have not tasted better drinks on any other machine or shop. We've saved soooo much money and gas! 🙂

5.0 out of 5 stars
A great machine for a fraction of what other machines cost.——Rachel Kellyon (November 11, 2012)
Color: Silver
We had initially registered for a machine from Macys because I know and love the brand Breville, they made my fantastic grinder, but it was $600 and we knew no one would buy such an expensive item. So after shopping around a bit, worried that no espresso machine would be worth it under $400, this was the only one that really seemed worthwhile, so I took a chance.

Well, we got this in the mail in July, and this baby's had four months of fairly heavy use (up to five shots pulled per day) and hasn't missed a beat. The espresso is EXTREMELY good, with a mega-crema I had not expected for such an inexpensive machine. My roommate and I pull extremely different styles of espresso and it does both of them beautifully.

The steam wand is NOT AMAZING. But it really is totally adequate for any foaming needs – you just have to coax it a bit. First, this machine is (I believe) the cheapest one available with a STEEL wand. Second, it takes a bit to heat up. This isn't a pro machine (again, it's $150) but you can get it to do what you need.

How-To: First, let the steam heat up and shoot water out for 5-10 seconds until it has started steaming. Then, put the wand in the pitcher of milk and let it heat the milk until it's at least 100° Fahrenheit – only THEN start foaming it. This will take longer than you think – again, not a pro machine. Don't start foaming too early, just let the wand sit in there until the temperature is within 30-40° of what you want – 140-160°F. It makes fabulous foam, you just have to be patient. Oh, and put something beneath the espresso output because it will spit a bit of water out when you're done steaming.

Maybe I should do a video review!