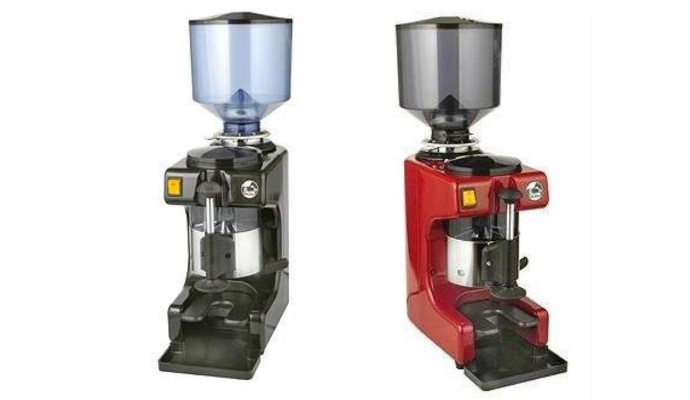 La Pavoni Commercial Coffee Grinder 2.2-Pound Capacity Hopper, Multiple Grind Settings
Coffee grinder
Commercial quality
Tempered steel burrs
Made in Italy

Product Description
La Pavoni Zip-B commercial coffee grinder, large 2.2-pound capacity hopper, multiple grind settings from fine Turkish to coarse grind. Seal lock hopper slide prevents spillage. 5-Year replacement guarantee on tempered steel burrs. Built-in 58 millimeter push-down tamper. Steel case, black and red. Made in Italy
Product Information
Product Dimensions 13 x 8 x 21 inches
Item Weight 29 pounds
Shipping Weight 30.6 pounds (View shipping rates and policies)
Department Small Appliances
Manufacturer European Gift and Houseware
ASIN B0055IZ8I6
Domestic Shipping This item is also available for shipping to select countries outside the U.S.
International Shipping This item is not eligible for international shipping. Learn More
Item model number ZIP-B
Customer Reviews 5 out of 5 stars 1 customer review
Best Sellers Rank #521,321 in Home & Kitchen (See Top 100 in Home & Kitchen)
Date first available at Amazon.com October 26, 2007
Top Customer Reviews
5.0 out of 5 stars
13 Years and still going strong——By ADF (June 12, 2013)
I purchased my La Pavoni Zip in April of 2000. Plenty of coffee has run through the mill and I have used this machine daily for 13 years without any issues whatsoever.
Looking at it I decided it's finally time to renew the burrs (which cost less than $50 from dealers). Inspecting the interior, it is "as new" with the exception of normal, uniform wear to the grinding surfaces (still grinds fine as I write this).
So what more can I say about this fine, robust appliance? The hopper exactly fits a standard 1,000 gram bag of imported espresso, it's simple to disassemble the grinding chamber for inspection or to clear a foreign object if need presents, and it runs forever. I paid $450.00 for mine back then, today they sell on line for around $850, a good deal if you want to buy one and forget fiddling with it for more than a decade of steady grinding. Well, inspecting the interior led me to write this review, it's seldom that one can speak so well of an old appliance.