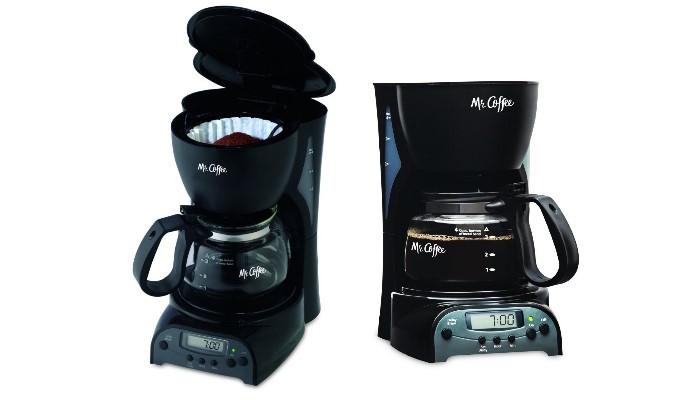 Mr. Coffee DRX5 4-Cup Programmable Coffeemaker, Black
Color: Black
Size: 4-Cup
4 cups x 5 oz = 20 oz of liquid
On/off indicator light lets you know when your coffeemaker is on or off
Removable filter basket lifts out for fast and easy filling and cleaning
Brewing pause 'n serve lets you pour a cup of coffee while the coffeemaker is still brewing
Dual water window shows the amount of water in the reservoir for accurate filling
Ships in Certified Frustration-Free Packaging

Product Description
Color: Black | Size: 4-Cup
Set the Delay Brew feature up to 24 hours in advance and get ready to wake up to a freshly brewed pot of hot, delicious coffee.
Product Information
Color:Black | Size:4-Cup
Product Dimensions 9.6 x 7.1 x 10.7 inches
Item Weight 2.8 pounds
Shipping Weight 2.8 pounds (View shipping rates and policies)
Department Small Appliances
Manufacturer Mr. Coffee
ASIN B0008JIW8U
Origin USA
Shipping Advisory This item must be shipped separately from other items in your order. Additional shipping charges will not apply.
Item model number DRX5-NP
Customer Reviews 4.2 out of 5 stars 2,834 customer reviews
Date first available at Amazon.com September 14, 2004

Customer Questions & Answers
Question: Does it have an auto shutoff feature
Answer: Yes, the warming plate shuts off after 1 hour. (By Cix on December 3, 2012)
Question: Can this unit make one serving of coffee, rather than all 4 cups? I have sworn off soda,and discovered that I actually like coffee for the 1st time 🙂
Answer: Yes! And you can make more if you want. All you need to do is ajust the amount of coffee for how much you want to make. You can even do a half cup if thats all you want. You probably have seen all the new coffee makers that you use these plastic cups for single servings. They are great, but to me I think it is a waste and not good for the environment. see less (By Kandy S. on February 7, 2013)
Question: Can I program the coffee maker at night in advanced to start brewing coffee at set time in morning?
Answer: Yes, its programable for delay brewing. The automatic 1 hr. shut off is not; it just automatically shuts off after being on for 1 hr. (By Diana Fitzgerald on February 22, 2014)

Top Customer Reviews
5.0 out of 5 stars
Perfect brewer for someone like me——By DM Stafford on February 8, 2009)
I bought the Mr. Coffee 4-cup coffee maker a month and a half ago, and have no complaints thus far. I use the thing almost every day.

Time involvement:

I am a college student and part time employee who wakes up a different time each morning of the week, and I also like to drink tea sometimes instead of coffee. Mostly I brew coffee in the morning, but sometimes I like to see if I can go all day without a caffeine dependence, only to find I need to brew a cup late in the evening to finish my day's responsibilities. So far, this coffee maker has fit very well into my irregular coffee drinking schedule. It brews all four cups in about 5 minutes, and it only takes a few minutes to place in a filter, add coffee grounds, brew, then rinse the carafe and removable coffee filter basket. On days when I'm racing out the door, taking the small amount of time to prepare my coffee doesn't impede my rush.

Taste:

I buy gourmet coffee, and I find that the coffee comes out tasting great. Sometimes I take my gourmet coffee to the brewer at work–which is a 12-cup, 2-carafe brewer–and the coffee isn't nearly as good. Since these are the only brewers I've used regularly, I'm not sure if there are any brewers that brew "cleaner," but since I don't notice any unusual tastes in my coffee, I'd say this one is pretty clean. To enhance taste, I use cold water from my Brita faucet filter–I've found that impurities in tap water are sometimes amplified when heated in coffee brewers. I use paper filters now, just because there weren't any 4-cup permanent filters at the store when I bought this, but I hear permanent filters provide even cleaner of a taste.

Speaking of the filter, I've read a few reviews complaints about the filter folding over and allowing grounds to drain into the carafe. If this is the only problem, a permanent filter will certainly take care of this. However, I have not once had this problem.

Size:

If you have more than one coffee drinker in the house, or you are someone who likes a lot of coffee to get going, you may need the 12 cup brewer. 4 cups are enough for me to put in my thermos and sip on all day at work or college, and if I ever need more, I prefer a fresh brew anyway. There's just something about the taste of reheated coffee that turns me off.

Carafe:

The 4-cup carafe is well built and easy to pour. I saw reviews about how hard it is to pour without spilling–I haven't had a single spill yet. Just make sure you keep the lid from flopping open. If you need to, place your thumb next to the hinge when holding it to keep it closed (if you own this, you should know what I mean). The one complaint I do have about it, though–and it's minor–is the extreme tapered shape. The taper at the top creates a little "shelf" where the last few drops of coffee get caught when pouring, and you almost have to invert the carafe completely upside down to get it out. However, the amount caught on this shelf is very small and not worth inverting to get out. I always rinse my carafe out after finishing the coffee, and it's no problem to invert the carafe over the sink.

Timer:

At first, I was upset that the "delay brew" feature needed set every night. I was hoping for a brewer that you turned on once, and it would automatically brew every morning. Now I know why they built this brewer this way. There are times I'm just too busy to remember changing the filter and coffee, or I forget to replace the carafe on the heated plate after rinsing it. I'd hate to wake up the next morning and see twice brewed coffee in my carafe, or worse, all over my counter and floor! This feature is a blessing for busy and scatterbrained people. And since you need to change the coffee and filter each night to have automatic brew the next morning anyway, turning the "delay brew" button on each night isn't any more of an inconvenience.

My brewer sits between my microwave and stove, both of which have clocks. I haven't noticed the time being off on my brewer in the time I've had it, like others have experienced.

Other:

It's small, light, and the filter basket comes out so you can rinse it after each brew. I think that's important to the freshness of your coffee. I've also torn open tea bags and poured the ground leaves into the coffee filter so I could brew large batches of tea. This seems to work great and really maximizes the flavor of the tea, but since tea stains easier than coffee, I have to pay more attention when I rinse my filter basket and carafe so the tea taste doesn't linger when I'm going to brew coffee.

Now, this coffee maker seems pretty solid. However, any appliance can break early, and since I've only had this coffee maker over a month, I can't say how long these things last. But I've had no problems so far, and I recommend this coffee maker.
starsNice Unit – Great for Small Apartment or Desk ——By Tetsu Uma VINE VOICE on September 7, 2008
04/14/2015 – Over seven years and still going strong and brewing good coffee. The clock now gains about a minute per week but really, does anyone buy a coffee maker for the clock? Two pots a day, four days a week with what I am sure is less than the recommended cleaning and care. I still think it deserves six stars.

02/25/2013 – Hard to believe this little coffee maker has been with me for over five years now. It's been through a move to my offsight office and back to my main office. The clock still keeps excellent time. The only thing to report is that the little tab inside that holds the lid down is starting to wear out. I just put my mug on the top while it's brewing coffee (so the steam doesn't escape) and keep on rolling. Best money I've ever spent on a coffee maker. I think it deserves six stars (the extra star for reliability and longevity).

09/02/2010 – Two year follow-up and the DRX5 is still working great. The clock gains maybe a minute per year if that. This is the best small coffee maker I've ever owned and has led to several other people in my office purchasing like model.

09/07/2008 – I've been using my Mr. Coffee DRX5 coffee maker for eight months now and I really like it. I wanted a small coffee maker for my desk at work and this one has really fit the bill. It has a very small footprint so it works great on my desk, it has not leaked a drop which is also good, and it makes pretty good coffee. (I use a heaping 2 tablespoon scoop for four cups.) I chose the black color so it doesn't show the stains. The unit has a removable filter basket so I don't spill grounds when emptying and the water level sight "glass" (which is plastic) is really handy since I fill it out of a water bottle rather than using the carafe. The clock is a great feature as I don't have one at my desk. (I notice that others have mentioned having problems with the clock but mine works just fine.) The output when I make a full pot fills my coffee cup about twice which I find is about the right amount of coffee for me.

I only have minor complains. You have to pour slowly so the carafe doesn't spill and one hour shut off doesn't give me enough time. (Some mornings I make coffee at 6:30 and don't have a chance to touch it until after 8:00.) You can hit start again and it will warm up the carafe.

Overall, this is a great little unit and it has inspired others in my office to purchase this model as well. Making my own coffee is much cheaper than paying a $1.00 for a 16 oz. cup in the cafeteria and I love the smell when the coffee is brewing. Having this unit allows me to drink the specialized coffee I prefer. The small size means making a second pot isn't so much of a chore on those days when one pot isn't going to cut it. I recommend the Mr. Coffee DRX5 to people who like fresh coffee with a minimum of fuss, either at home or at work.